welcome
Established in 1978, The Company has achieved renown for upholstery and curtain making, creating a strong and loyal clientele. Ralph, Peter and their team are always on hand to offer expert individual advice to help you make the right choices for your home of office.
Today, Peter Jude successfully services the private, commercial and hospitality sectors. Peter Jude has become a highly respected name in the interiors design industry, attracting a reputable clientele and worked with well known interior designers.
From its roots in upholstery, the business has successfully developed offering a range of services and products including Bespoke Furniture, Re-Upholstery, traditional and modern Furnitures, Soft-Furnishings, Designer Fabrics.
01.
Re-Upholstery                  
With nearly 40 years of experience, Peter Jude boasts an unrivalled knowledge of all aspects of upholstery, from antiques through to modern day design.
02.
Custom beds and headboards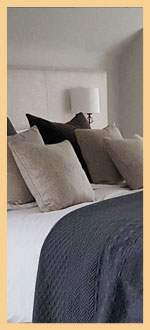 Every bed bases and headboards made to measure for your in any design, style or size. We are able to deliver and fit in your home.
03.
bespoke furniture                      
We are able to create bespoke pieces of furniture that are matched your requirements. We are confident that our hand made furniture in the highest quality and will stand the test of time.